From February 29th until March 4th, between 10:00 and 22:00, the historic Bank Al-Maghrib building in the Djemaa el-Fna square will be open to the public for the Marrakech Biennale. Films and videos from artists around the world will be screened, adding to the rich performance culture of the square. In addition to the screenings of Šejla Kamerić and Anri Sala films, 1395 Days Without Red (2011), which will be take place on March 2nd and March 4th, the bank will feature a video exhibition, Le Dépays, curated by Nine Eglantine Yamamoto-Masson.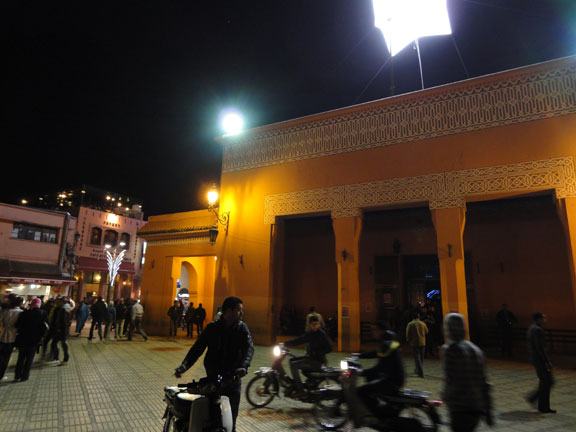 SCHEDULE

February 29
10:00 – 22:00
"Le Dépays"

March 1
10:00 – 22:00
"Le Dépays"

March 2
10:00 – 17:00
"Le Dépays"
17:30 – 18:30
1395 Days Without Red (2011), by Anri Sala
19:00 – 22:00
"Le Dépays"

March 3
10:00 – 22:00
"Le Dépays"

March 4
10:00 – 17:00
"Le Dépays"
17:30 – 18:30
1395 Days Without Red (2011), by Šejla Kamerić
19:00 – 22:00
"Le Dépays"
In association with Artangel, Marrakech Biennale is proud to present the North African premiere of 1395 Days without Red, a film project conceived, developed and filmed as a collaborative film project by Šejla Kamerić and Anri Sala. The project has given life to two separate films. Šejla Kamerić's film is 65 minutes long, and Anri Sala's film, made in collaboration with Ari Benjamin Meyers, is 43 minutes long. This presentation was generously supported by Marian Goodman Gallery, and Hauser & Wirth.

Le Dépays, curated by Nine Eglantine Yamamoto-Masson
Le Dépays: a look beyond, the quest for an elsewhere. Imagining an elsewhere or finding oneself there. An sense of wonder or estrangement. The state of being outside of one's comfort zone, an additional dimension that one might find even at home, in one's apparently familiar surrounding, which becomes other, and thus opens up new possibilities and trajectories. In these works, the artists engage with their environment with new eyes. This programme highlights the moving image as a language with which to formulate a personal, lyrical reassessment of the multiple layers of our everyday, or even to project an imagination of what could be unveiled beyond the visible.
Melanie Bonajo & Joseph Marzolla
White Cosmos, 2010, 11:00 min, HD video
Andreas Bunte
Künstliche Paradiese : Film 1 – Maison Horta, 2009, 09:45 min, 16mm on digital video, b/w, silent
Dina Danish
In and Out, 2009, 00:33 min, HD video
Counting, 2010, 01:30 min, HD video
Meredith Danluck
Poltergeist, 2010, 01:20 min, HD video.
Courtesy of the artists and Renwick Gallery, New York
Hansjoerg Dobliar
Hystérie et Abstraction en Provence, 2011, 11:45 min, digital video
(main film of 3-channel installation)
Simon Dybbroe Møller
Improvised Szkieletor Soundtrack (Attempt #5), 2007, 04:08 min
Deniz Eroglu
Sons of Illumination, 2010, 05:26 min, Bolex 16 mm
Nooshin Farhid
Boderline 2007, single screen version, 6:30 min, HD video
Mounir Fatmi
Architecture Now! Etat des lieux #5, Without Anesthesia, 2010, France, 08:22 min, HD video, colour, stereo
Courtesy of the artist and Analix Forever, Geneva
Mohssin Harraki
Two Sides of One Piece, 2010, 01:52 min, HD video
Mirak Jamal
Running Man: 1. Cologne Basement 1991, 5. Parents' Living Room, Toronto, 2011, 04:30 min, VHS video, HD video
Fadma Kaddouri
Le vent, je crois, emporte tout, 2011, 04:47 min, digital video
Katia Kameli
En Route Pour L'Aventure, 2010, digital video
Jumping in the Air (in collaboration with the artist collective EchoparK), 2003, 03:40 min, DV video
Bill Kouligas & Kathryn Politis
Drift, 03:39 min, 2010
Astrid Nippoldt
Concorde, 2004/05, 3:05 min, video on DVD
Ayaka Okutsu
Whiteout – Would You Care For Who You Are?, 2011, 02:42 min, digital animation
Fatima al Qadiri & Khalid al Gharaballi
Mendeel Um A7mad (N x I x S x M)
Jeremy Shaw
This Transition Will Never End, 2008
Elizabeth Skadden
Knife Factory Slumber Party, 2009, 04:30 min, HD video
John Smith
Flag Mountain (Southern Nicosia, looking towards the border with the Turkish Republic of Northern Cyprus), 2010, 08:00 min,
HD video. Courtesy of the artist and Tanya Leighton Gallery
Jalal Toufic
Saving Face, 2003, 07:21 min, HD video
All works courtesy of the artists. Special thanks to Elizabeth Skadden.

Nine Eglantine Yamamoto-Masson is a French-Japanese curator, scholar and artist currently based in Berlin. She is a PhD candidate in Media Studies and Critical Theory at the Amsterdam School for Cultural Analysis. Prior to that she received her education at the universities of Paris Sorbonne, Berlin Humboldt, London Goldsmiths and Tokyo Waseda. In research and practice she records and reinterprets perceptions of culturally charged spaces and moments understood as interfaces through which to approach the unsaid and unseen, bypassing dominant narratives. She has produced and co-directed her first full-length documentary film on war photographers in 2007 and an essay film about the Fuji Five Lake region in Japan in 2008-2009. She has worked with the International Necronautical Society and co-founded the artist collective Channel Zero. In 2010 she founded You Are Here, a curatorial platform that initiates and promotes dialogue between two local art scenes through exhibitions, collaborations between artists and curators and panel discussions, e.g. between Berlin and Tokyo in 2011. She is currently preparing the next installment of You Are Here, as well as working on her doctoral thesis.